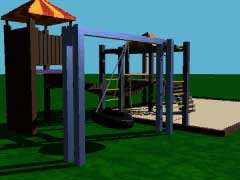 Playground Swing Structure
A structural engineer is designing a tire swing for some new playground equipment. For the design to be successful, the material used for the swing beam must be capable of withstanding the internal loads generated by the swing and its occupant.
What is known:
The beam length L is 8 ft.
The tire is connected at the mid-span of the beam.
The design load, F, for the swing is 300 lb.