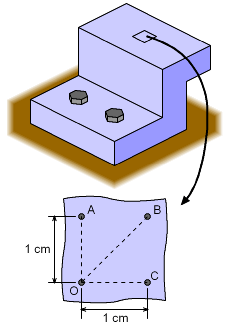 Aircraft Fuselage Loading
A bracket is expected to carry a large load and the designers need to know the maximum shear strain. The problem is there is no way to measure shear strain accurately. Also, they do not know what direction the maximum shear strain will be a maximum.
However, they do have a new laser instrument that can accurately measure the displacement between any two points on an object.
What is known:
Four points are spaced 1 cm apart to form a perfect square (before loading).
Laser measuring device determines the total distance between point O and the other three points after loading is:



Distance (cm)
Pt 1
Pt 2
Initial
Final
O
A
1.0
1.00150
O
B
1.41421
1.41775
O
C
1.0
1.00200