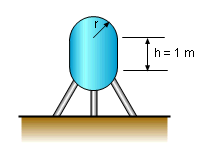 Vessel
Anson needs to design a high pressure vessel with a volume of 1.5 m3 for AlphaRx Company. The vessel consists of a cylindrical main section, 1 m high, and two hemispherical at each end.What should be the radius of both the two hemispherical ends and cylindrical middle?
What is known:
The volume of the vessel, v, is 1.5 m3.
The height of the cylindrical part, h, is 1 m.