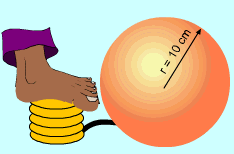 Enlarging Balloon
In order to decorate a living room for a birthday party, Alice is pumping air into balloons. She is curious about the balloons' surface rate of change when the radius of the balloon is 10 cm.
What is known:
The rate of air being pumped into a balloon is 8 cm3/sec.
The radius is 10 cm.