Begin with a diagram, modeling the hull as a circular cylinder and the con as a rectangular prism.
Use Eqs. 1 to determine the moments of inertia of the con about its center of gravity: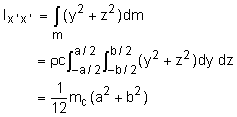 (Note, dm = ρ c dy dz)
Using a similar derivation, we get

These expressions for the moment of inertia could also be found from Appendix B, or a table of inertial properties.
Equations 2 give the products of inertia of the con about its center of gravity:

(Note, dm = ρ a dx dy)
Using a similar derivation, we get
Iy'z' = Ix'z' = 0