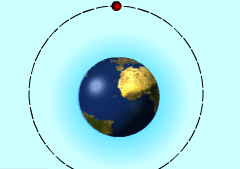 <
Launch an Satellite
NASA is planning to launch an unmanned satellite into a circular orbit at an elevation of 650 km. Engineers need to know the work required to launch the satellite into its orbit in the vertical direction.
What is known:
Newton's Law of Gravitation states that two bodies with mass given as m1and m2 attract each other with a force

FG = Gm1m2/r2

where r is the distance between the bodies ( from their centers) and G is the gravitational constant, G = 6.6 7x 10-11 N-m2/kg2.
The mass of the earth is 5.98 x 1024 kg and is assumed to be concentrated at its center. The average radius of the earth is 6.37 x 106 m.
The mass of the satellite is 173 kg and the satellite is launched to an orbit 650 km above the surface of the earth.