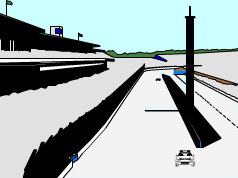 Stop an Escaping Car
In an exercise offered by a police school, the students are required to pursue a passing car using a police car.
What is known:
The passing car has a constant velocity of 80 mph when it passes the police car.
The police car's velocity can be modeled as

where v is in mph, and t is in hour.
The police car starts at rest. The maximum velocity of the police car is 120 mph.