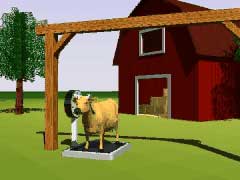 Bull too Heavy for Scales
On Bull Gates Ranch, a prized bull needs to be weighed before being transported to the county fair. However, the bull's weight is too high to register on the current scale (1000 lb maximum). Consequently, a jury-rigged system of pulleys has been built in order to determine the bull's true weight.
What is known:
When the pulley system is used and a 75 lb counterweight is attached to the end of the rope, the scale registers the bull's apparent weight as 980 lb.

Pulley System to Reduce
Bull's Scale Weight
a) What is the bull's actual weight?
b) If the bull's actual weight is 1368 lb, what magnitude counterweight will cause the scale to read 1000 lb?