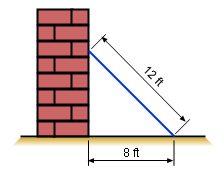 The State of the Ladder
In order to hang a painting on a well, Jim moved a ladder and leaned it against the wall. However, the ladder started to slide away from the wall when he started clim the ladder.
What is known:
The length of the ladder is 12 ft.
The ladder horizontal speed at the base is 3 ft/s.
The distance between the bottom of the ladder and the base of the wall is 8 ft.