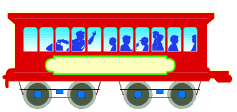 Tony's Cart
Tony is a driver of the Fastpass cart in the animal kingdom section of Funworld. He needs to drive the cart at a constant speed so that the customer can see the animals clearly. Before the cart reaches the constant speed, its velocity varies.
What is known:
The cart starts from rest.
The velocity varies as a function of time,
v = 2500 t2/3 mile/hour
where t is in hours.
The final constant speed of the cart is 10 mile/hour.