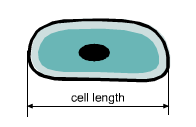 Plant Cells
Man-made Auxin, a growth chamical, can accelerate the growth speed of plant cells. The cell elongation speed can be modeled with a mathematic expression. To better understand the relationship between the elongation speed and time, the mathematic expression can be plotted.
What is known:
The mathematics relationship between the promoted elongation speed and the time is
f(t) = -t3 + 5t2 - 3t + 5
The life cycle of Auxin is 7 weeks
The unit for elongation speed and time is μm/week and week, respectively.