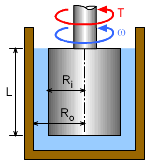 Rotational Cylindrical Viscometer

Students are given a simple device called a rotational cylindrical viscometer, as shown in the figure, and asked to determine the viscosity of an unknown liquid. The outer cylinder is fixed while the inner cylinder is rotating at a constant angular speed of ω by applying a torque T.
Derive an equation for the viscosity in terms of angular velocity, ω, torque, T, submerged inner cylinder height, L, inner cylinder radius, Ri, and outer cylinder radius, Ro. Calculate the viscosity value when ω = 55 rev/min, T = 0.9 N-m, L = 0.3 m, Ri = 0.12 m and Ro = 0.13 m.